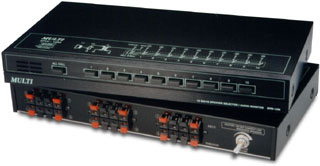 SPW-10 / SPW-10M
10 Ways Speaker Selector
Features:
Designed for High-impedance output (e.g. 300 Ohms, 100V) P.A. amplfiers
10 groups of speakers can be selected separately.
"All Call" function - select all groups at the same time.
"Through Output" terminal allows connect more than one selector in parallel.
Built-in monitoring speaker with volume control. (SPW-10M only)
Specifications:
Model
SPW-10
SPW-10M
Speaker Stations
10 stations and 1 all call
Total Maximum Input
1000W(rms)
Power Capacity
100W / 1 Station
1000W / All Call
Monitoring Speaker Output
NIL
1W
Dimension
340(W)x45(H)x200(D)mm
Weight
1.7kg
2.2kg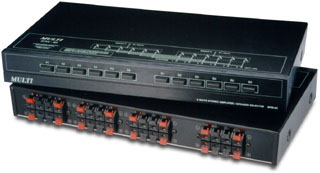 SPW-62
6 Ways Stereo Amplifier / Speaker Selector
Features:
SPW-62 is designed for 2 stereo amplifiers input and output to 6 sets of speakers or conversely, input 6 amplifiers and output to 2 sets of speakers.
Specifications:
Model
SPW-62
Input (Amplifier)
6
2
Output (Speaker)
2 Sets
6 Sets
Power capacity
1000W
Insulation Resistance
10000M Ohms
Operating Temperature
-10°C ~ +50°C
Dimension
340(W) x 50(H) x 200(D)mm
Weight
1.8kg